Our electrification plan is simple: play to our strengths and build on our iconic nameplates.
By Ted Cannis, Global Director, Electrification, Ford Motor Company
At Ford, our electrification plan is simple: play to our strengths and build on our iconic nameplates. To do that, we will leverage the unique qualities of full battery electric vehicles to amplify the attributes our customers love and value — capability, performance and leading technology. So it's only natural to ask what could we do to build on pickup trucks in this era of smart vehicles in an increasingly smart world?
Ford trucks provide the global backbone of work, built on a foundation of toughness. And it is time to take tough to the next level. Tough starts and ends with F-Series, our bread and butter. The F-Series is the best-selling truck in America for 42 straight years. Trust me when I say we understand trucks. We know truck owners … tens of millions of them. We love trucks. And, we beat up and test trucks in the most grueling ways, so you don't have to.
Last year, Ford celebrated 100 years of manufacturing leadership at the Rouge plant, where we build an F-150 every 53 seconds. The plant that revolutionized American manufacturing. The plant with a living roof. On that day Bill Ford proudly announced that an all-electric F-150 is being added to the most compelling truck line up in the world. We are pumped to give our truck customers even more of what they love.
The all-electric F-150 will be a new and exciting kind of Built Ford Tough. We're aiming to blow away truck customers with new capabilities that they never saw coming.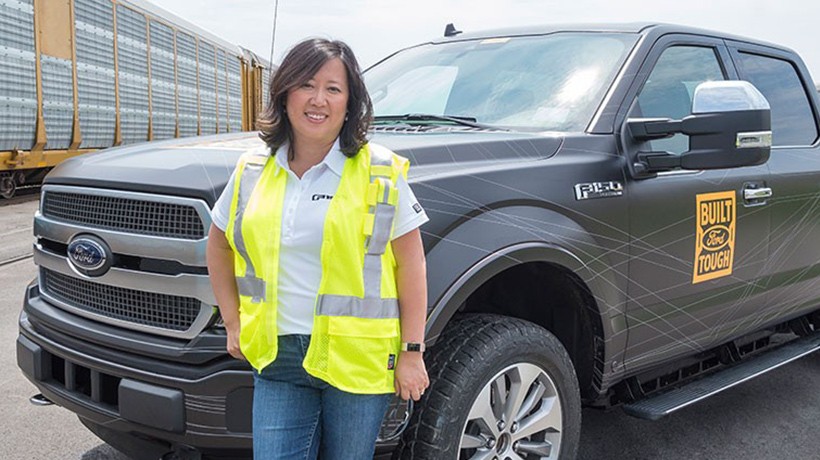 Linda Zhang, chief engineer of the Ford F-150, with the F-150 all-electric prototype.
Recently we set out to flex the muscles of our new, all-electric F-150 prototype. After all, truckers will do what truckers will do. And everyone wanted to see what could really be done when we pushed this all-electric truck's capability.
There is no greater tension for Ford engineers than doing live tests in front of real truck owners, while cameras are rolling. But that's exactly what we did. As you can imagine, math on paper is never quite the same as real work on the job. Which is why every F-Series is serious about testing… and in this case, seeing what happens with live testing. Check it out:
F-150 All-Electric Prototype - Linda Zhang, chief engineer of the Ford F-150, shows the capability of a prototype all-electric F-150 by towing 10 double-decker rail cars and 42 2019-model year F-150s, weighing more than 1 million pounds.
Full disclosure: I'm all in on EVs. Climate change … you had me at hello. But what we're doing here is not just about air quality or rising sea level. We are all about building better trucks for our customers who have real work to do every day. Trucks that can do more for our owners. Trucks that meet new sets of needs. Because leaders lead.
And to that end, I could not be more proud of our engineering teams. We are dead serious about delivering an electric pickup truck that again sets an all-new bar for what light duty trucks can deliver — not in the science project sense, but in the reality of what tough trucks need to do.
This demonstration showcases our commitment to remain the clear leader in trucks as well as to highlight our commitment to the future of electric vehicles. We've already announced plans to bring an F-150 hybrid to market that can act as a mobile generator.
And, as a reminder, we are also working feverishly on our plans to reveal our fully electric, Mustang-inspired SUV. Get ready. No games. This isn't about compliance. We are backing our plans with countless hours of research and testing to ensure we deliver an electric experience that wows — and wins — customers. And we are going to have incredible charging plans that get you where you need to go with ease and peace of mind. But more on that later.
Stay tuned. There is a lot more to come.