A Neighborhood Newsletter from Ford
Issue No. 7, December 2020
Michigan Central: A walkable community for all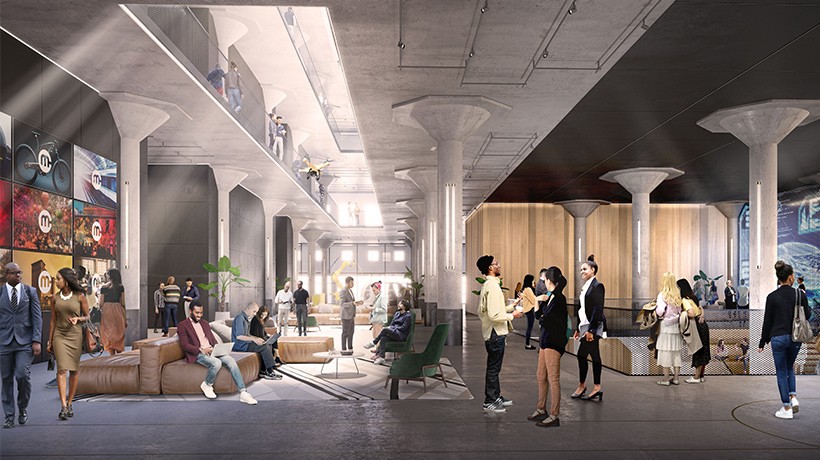 The Book Depository will be transformed into a contemporary workplace for teams to develop products and services focused on the future of mobility.
Ford provided a comprehensive site plan and design update for Michigan Central in a virtual community engagement event on Nov. 17. Building upon the existing fabric of the neighborhood, the plan envisions an inclusive, vibrant, walkable community anchored around the train station that will prioritize the needs of local residents, along with those of the 5,000 employees who will work there.
The 30-acre site plan, developed by New York-based architectural firm PAU, will guide the overall design of Michigan Central. It calls for improving connections to the surrounding neighborhoods, while adding greenery, biking and walking paths, public art and all-season open spaces.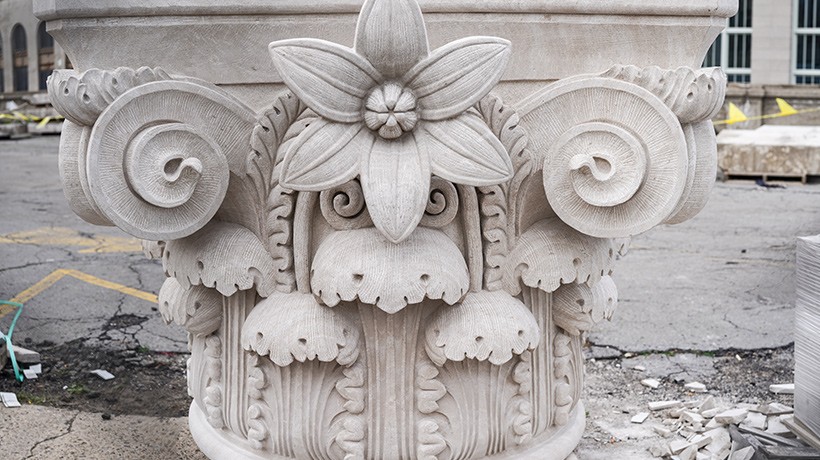 Ornamental column capitals are being restored.
"The revitalized train station and the reimagined spaces and buildings around it can together become a unique and authentic destination for community members, innovators and visitors alike," says PAU founder Vishaan Chakrabarti. Ford also unveiled new designs for the Book Depository and the Bagley Parking Hub, both of which are scheduled to open in the first quarter of 2022.
Architectural firm Gensler is redesigning the former DPS Book Depository, transforming it from an abandoned warehouse into a dynamic space for mobility-focused research and collaboration. As the industrial center of Michigan Central, it will include co-working areas, hands-on labs, innovation studios and a rooftop event space.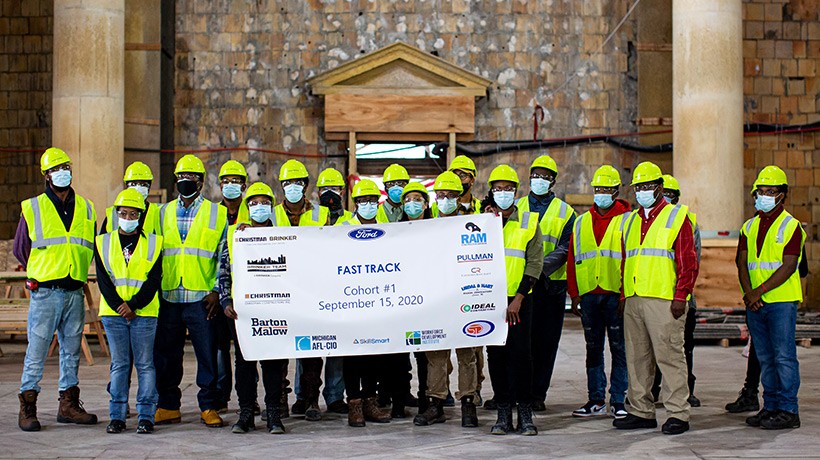 Fast Track apprentices from the first cohort are working on-site with the masonry and carpentry trades.
Reimagining open space is the focus of Mikyoung Kim Design, the newly selected landscape architects for Michigan Central. MYKD's approach considers active places for programming and natural spaces for respite and reflection — with accessibility for all.
The team also shared preliminary designs for the Bagley Parking Hub, a new mixed-use facility at 14th and Bagley. The hub will include parking spaces for Michigan Central workers and feature public-facing amenities, including free wifi, outdoor seating, restrooms and bike storage. Two new public plazas along the future greenway will make it a popular meeting place for residents and locals alike.
Restoration at the Station
Ford's renovation of historic Michigan Central Station continues this fall, with work crews hard at work restoring the Waiting Room façade's ornate column capitals. According to construction manager Rich Bardelli, restoration of just one hand-carved capital required more than 400 hours of painstaking labor. Mechanical engineers are also utilizing 3D scanning technology to help re-create some of the station's other decorative pieces.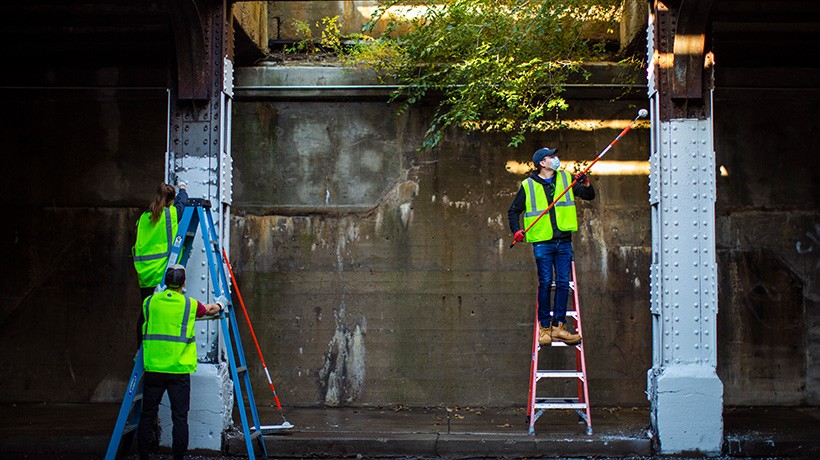 A team from Ford's Volunteer Corps works to clean the Vernor viaduct, preparing it for future lighting, art and public access.
Meanwhile, abatement and cleanup has been completed on the old train shed, a major interior space beneath the train platform. The condition of this former loading and warehousing area has exceeded the team's expectations, presenting the possibility that it could be repurposed for new uses. Connections may also be possible between the train shed and mobility platform.
The next cohort of Ford's Fast Track workforce apprentice program is scheduled to start at Michigan Central Station in February. If you'd like to participate in this four-month work experience and mentorship program and be a part of the station's restoration, talk with a career adviser at a Detroit At Work center or visit detroitatwork.com. Successful candidates will complete a Detroit At Work construction trade training program and can then apply to work at Michigan Central Station via the Fast Track program.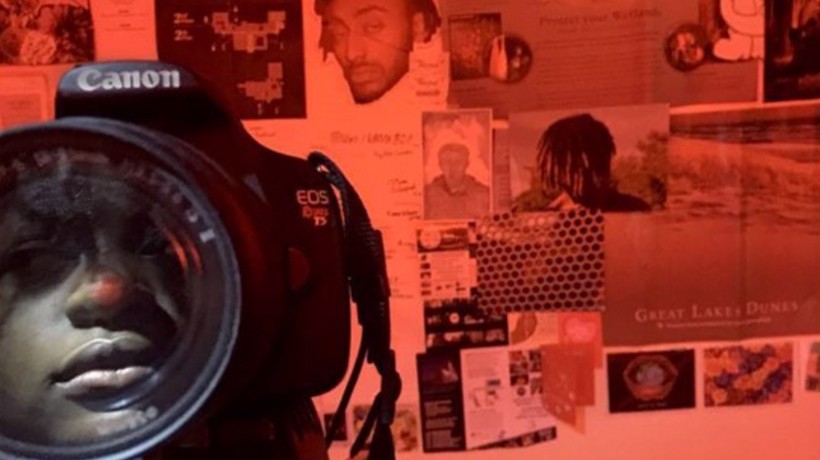 The Remote Ally Project photo exhibit is open to the public in Roosevelt Park now through Dec. 20.
Priority will be given to those who live in the impact area. Individuals in pre-apprentice or on-boarding programs will also be recommended for the Fast Track program.
The Ford Volunteer Corps recently rolled up their sleeves to make hands-on improvements to the viaduct over West Vernor. Volunteers removed trash and weeds, and power-washed and painted the structure, setting the stage for future lighting, artwork and walkability improvements. Ford's site plan envisions the viaduct as a key access point to the station and proposes transforming a closed section of Vernor Highway into a pedestrian path that welcomes residents of Mexicantown and Southwest Detroit.
The Remote Ally Project Exhibit
Thanks to Ford's Community Grant Program, a group of 18 Detroit students and four international students recently teamed up with the Remote Ally Project to document their way of life during the global health crisis.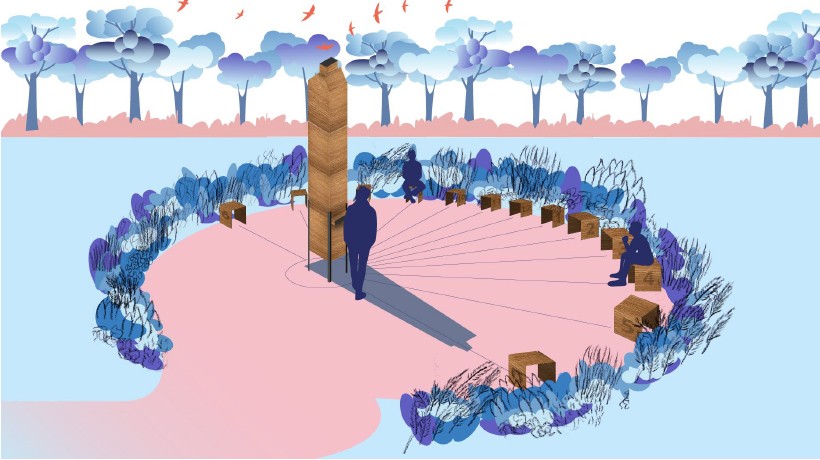 Bird sanctuary concept by CCS student Berenice Sanchez
"With school being interrupted it's been a time of forced isolation, so engagement and support is important," says project co-founder Romain Blanquart.
Some of the students used real cameras while some used smartphones, but every image is a compelling one.
"The camera is not so critical a tool as it is how you use it," Blanquart says.
More than 100 banners of the students' stunning photography will be on display outside the train station now through Dec. 20.
The Gleaners Client Choice Food Pantry at the Ford Resource and Engagement Center recently converted to a drive-through market to continue distributing food to people in need, amid new health and safety guidelines.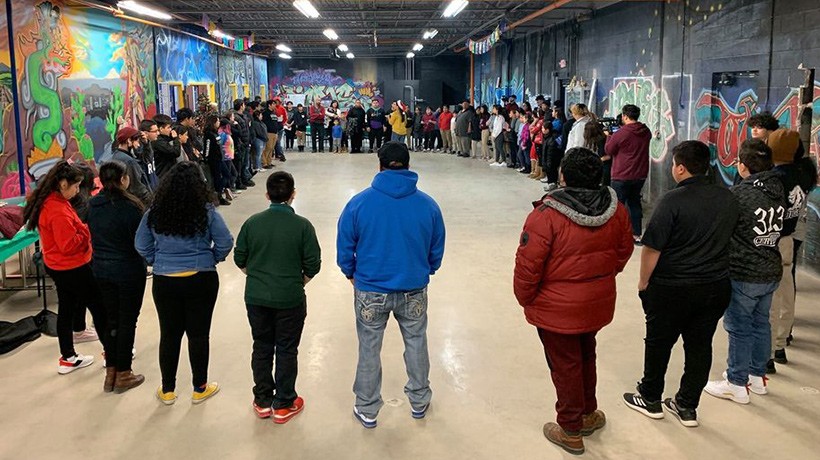 Detroit Hispanic Development Corporation and Burton International Academy received Ford Community Grants.
"We've distributed more than 800,000 pounds of food since mid-March," says Carmen Mattia, senior director of FREC Southwest Detroit. "Amidst this pandemic, we continue to adjust our approach to meet evolving state health requirements while providing critical services to the community."
Student Wins Audubon Grant
College for Creative Studies student Berenice Lopez Sanchez recently received a grant from the National Audubon Society to implement her idea for creating a nesting structure in North Corktown for endangered chimney swifts. These small birds are attracted to native plantings and rely on man-made structures for nesting.
Ford recently partnered with CCS and the Audubon Society to plan a new meadow in North Corktown, which will enhance the local ecology for birds and other wildlife.
"Since Ford is committed to tackling environmental challenges, I decided to focus my project on wildlife conservation and creating a connection between the residents of Corktown and the fauna of the area," Sanchez says.
New community grants awarded for youth education
The Detroit Hispanic Development Corporation and Burton International Academy recently won Ford Community Grants to provide enhanced educational programming for K–12 students in the Michigan Central impact zone. We asked the community to guide our 2020 grantmaking effort toward areas of highest need, and we based our decision to invest in youth education on public input from our June meeting.
In response to the pandemic, DHDC will provide students with STEM kits to learn coding, programming and digital design. Students will also receive critical learning tools to practice social emotional techniques in the comfort of their homes.
Located on Trumbull in Corktown, DHDC has one of the largest youth programs in the city.
"We're honored to partner with Ford to expand our services to youth and families in the Michigan Central impact zone," says Angela Reyes of DHDC. "This important work will help to secure the future of the young people in our community."
Elementary and middle school students will join weekly virtual workshops focused on interactive, age-appropriate academic enrichment, including reading, math, science and robotics.
High school students will have access to homework assistance, life skills activities, and college application support, as well as DHDC robotics, music and video production, and the 2021 Urban Planning Project.
The mission at our neighborhood school, Burton International Academy in North Corktown, is to equip students with social, emotional and academic tools to become community and global leaders. The grant supports supplemental programs in reading and math, and mentorship in college and career readiness for students in grades 3–8.
The grants will make a positive impact on hundreds of neighborhood students and their families, enhancing the educational experience during these extraordinary times.
COMMUNITY RESOURCES
Ford Resource and Engagement Center
(SW FREC) Offerings at 2826 Bagley
fordfund.org/FRECSouthwest

Fresh Market Pantry Program
Every Thu. 5–7 p.m.
All are welcome!
313.962.4888

Mercado Food Hub
Mon.–Tue. 10 a.m.–1 p.m.
Wed. 2–5 p.m.
Sat. 10 a.m.–1 p.m.
313.962.4888
Visit 20th Street and Bagley entrance for drive-through distributions.

FREE Legal Services by Southwest Detroit Immigrant & Refugee Center
Wed. Noon–5 p.m.
Please contact us directly for more info.
313.437.1550

FREE Tax Services by Accounting Aid Society
Tue. and Thu. 9 a.m.–4 p.m.
Please contact us directly for more info.
313.556.1920

SER Metro Detroit Job Services
Tue. 9 a.m.–1 p.m. and Thu. 1–4 p.m.
Please contact us directly for more info.
313.377.1067
UPCOMING EVENTS
2020 Annual Update Meeting
for Ford Corktown & Michigan Central
Thu. Dec. 10, 6–8 p.m.
Join the City of Detroit, the Neighborhood Advisory Committee and Michigan Central for updates on community benefits.

The Remote Ally Project
Photo Exhibit, Roosevelt Park
Through Sun. Dec. 20
Experience the photography of young Detroiters documenting their lives during these unprecedented times.
capturingbelief.com/projects