Ford is leading the electric revolution by creating an automotive manufacturing ecosystem in Tennessee and building two battery plants in Kentucky, creating 11,000 new American jobs. These facilities will reimagine how electric vehicles and batteries are designed, built and recycled – all Built for America.
Welcome to BlueOval City and BlueOval SK Battery Park
Leading the shift to an electrified America
More than 100 years ago, we made these advances possible by building a factory unlike any the world had ever seen: the Rouge. Vertically integrated, with its own power plant, steel mill and glass factory, it was a leap forward. A marvel of the age that changed all the rules. A century later, we're living through even more disruptive change, and Ford is making another historic investment with BlueOval City and BlueOval SK. Technology is fundamentally reshaping our economy, our industry and our livelihoods, forcing us to rethink what makes a middle class. These two facilities will lead our company and country into the electrified future.
Our biggest investment ever
Haywood County, Tennessee
Total Investment:  $5.6 Billion
New Jobs:  5,760
Glendale, Kentucky
Total Investment:  $5.8 Billion
New Jobs:  5,000
The Ford plan is in motion. On 3,600 acres just outside Memphis, called BlueOval City, we're building our first mega campus in more than a generation - and it's electric. Aspiring to have 100% renewable energy, zero waste to landfill and reusing water means we can help make sure our planet is in it for the long haul.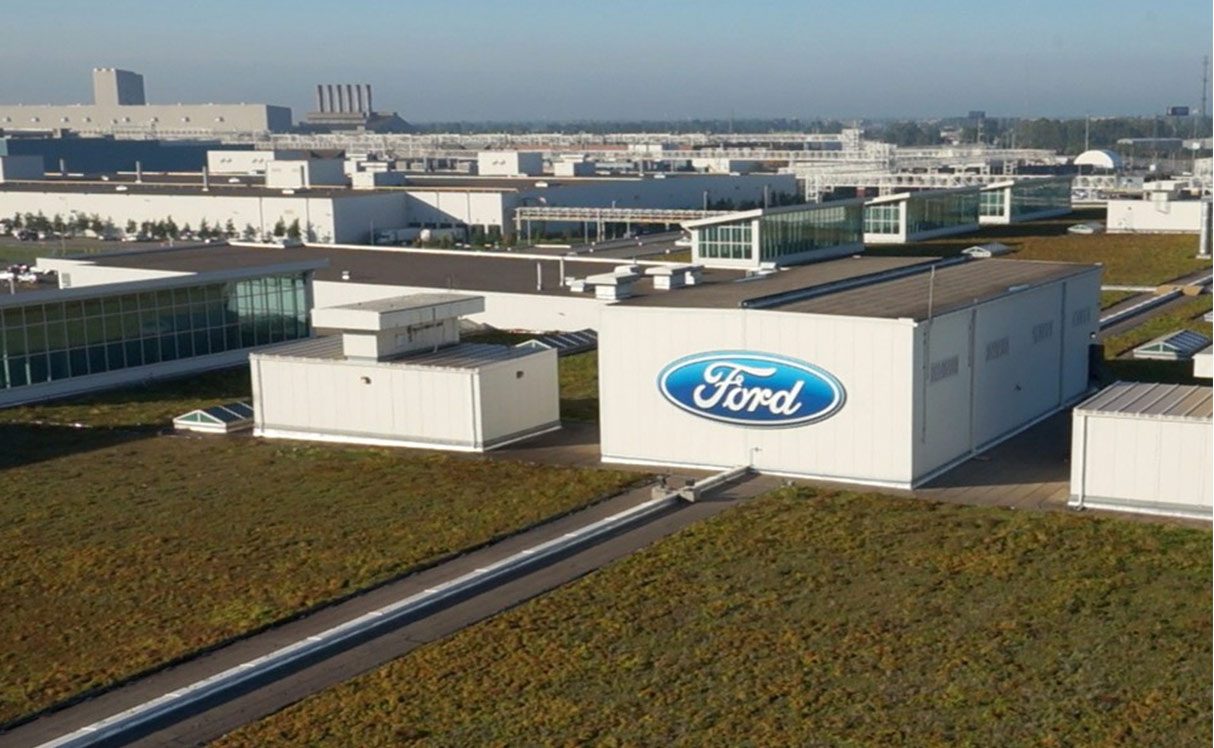 Accelerating Our Progress Toward a Carbon Neutral Future
The assembly plant at BlueOval City is designed to achieve a vision of carbon neutrality and zero waste to landfill once fully operational and to meet our air emissions goals. The goal is to have a regenerative impact on the local environment through biomimicry in design of the plant facility.
For both Ford and the American auto industry, electrifying our truck lineup represents a defining moment as we progress toward a zero-emissions, digitally connected future. An all-new and all-electric expanded Ford F-Series lineup and investments in our BlueOval intelligence tech stack will deliver next-level connected features and services for customers to drive significant volume growth.
Strengthening Local Communities
We're the company that helped the Industrial Revolution take hold, helped create a rising, thriving middle class, through the $5 dollar a day wage, and helped bring the freedom of movement to millions around the world. We are committed to continuing this legacy in West Tennessee and Central Kentucky, creating thousands of jobs and engaging with these communities in ways that are meaningful and sustainable.
Interested in helping build one of the sites?
Haywood County, Tennessee location
Glendale, Kentucky location
Want to connect with the Ford team? Email us!

To connect with us on media, sponsorship opportunities, construction or any other inquires, email or follow us on social media.


BlueOval City - Tennessee: blueovalcity@ford.com
BlueOval SK - Kentucky: blueovalky@ford.com
Follow us on Twitter: @blueovalcity