Michigan Central is a mobility district located in Detroit's historic Corktown neighborhood. A place where historical architecture meets the future of mbility, through purposeful design, flexible workspaces and connections to the neighborhoods and city around it. Ford Motor Company's; restoring the 108-year-old Michigan Central Station and the Albert Kanhn-designed Book Depositry to be the anchor buildings of this district, bringing together innovators, educators, policy makers, and companies to solve real-world mobility challenges in a dynamic urban community - and sharing those solutuins with cities around the world.
Future of Global Mobility
The 30-acre, walkable district includes 1.2 million square feet of commercial real estate, modern workspaces for 5,000 workers, maker labs, high-tech connected infrastructure, open spaces, and a state-of-the-art testing environment. A fully stored, technology-enabled Michigan Central Station will be the heart of the district and a must-see destination for visitors from the region and the world, featuring locally inspired restaurants, world-class public art, and vibrant community gathering spaces.
An open platform for partnership: this is not a Ford-only campus, we want to attract the best talent and partners from Detroit and around the world because solving complex problems cannot be done alone. Of the 5,000 workers at Michigan Central, half will come from Ford and half from our business partners who will help build this innovation ecosystem with us. 
Michigan Central Station Timeline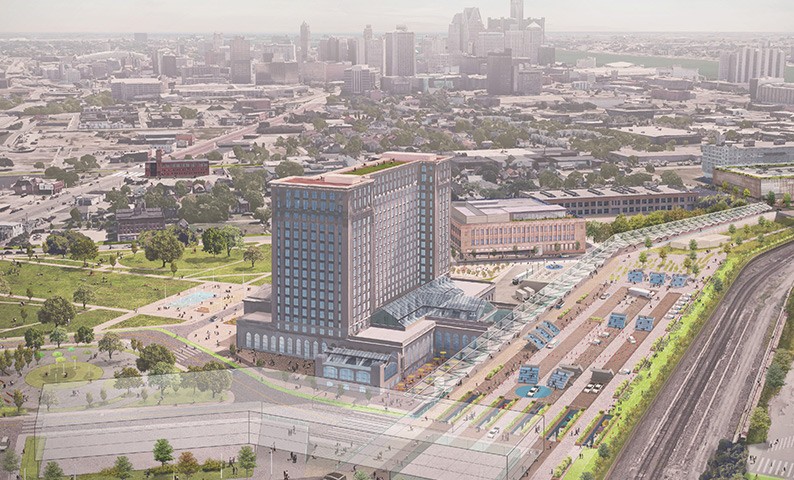 Contact Michigan Central
Email: info@michigancentral.com
Phone: 313.845.3673
LinkedIn: Michigan Central : Overview | LinkedIn
Facebook: facebook.com/michigancentral
Website: Michigancentral.com
Address: 1907 Michigan Ave, Detroit, MI 48216