Ford vs. Ferrari: The 427 GT40X - 1965
The origins of the Ford GT40 and the victory at Le Mans in 1966.
When the remaining cars arrived at Shelby's workshop in Los Angeles in December, Ken Miles, Shelby's developmental driver, got to work on them. Miles discovered that the initial design settings had been lost and when he reset the suspension to the original settings, performance increased substantially. The team began to test the aerodynamics with both the aid of a computer installed by Ford Aeroneutronics and the old fashioned way with yarn taped to the cars on both the track and in the Dearborn wind tunnel. They soon discovered that the airflow was worse than had been imagined. They gained up to 79 horsepower as Shelby America engineer Phil Remington rearranged ducting to change airflow. The changes continued as lighter weight fiberglass replaced heavier aluminum and steel, and wider magnesium wheels replaced the wire spoke version along with a hundred other modifications. Suddenly the GT40 began to not only look like a racing car, but to perform like one.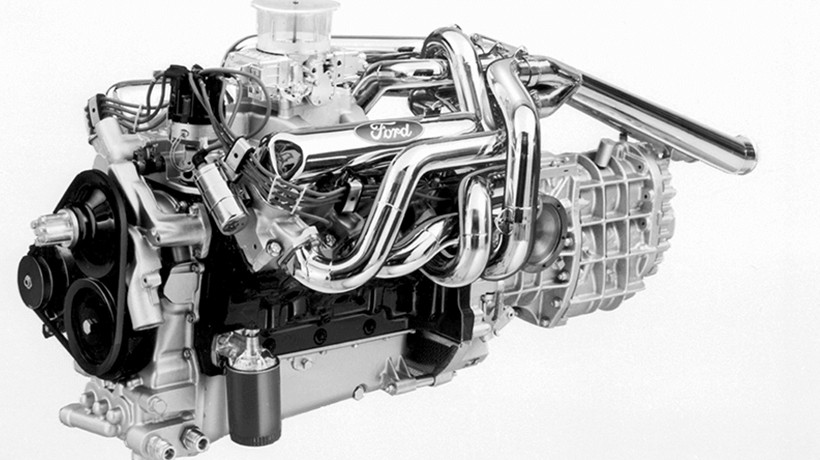 GT Mark II - 427 engine
The first race of the year was in Daytona and for the first time, the Fords completed an endurance race taking first and third, with a Shelby Cobra (running a Ford engine) sandwiched in between in second place. The 1965 season had started well - at least the cars were capable of finishing. After a second place showing at Sebring, the cars were shipped to France for testing at Le Mans during the time trial weekend in April. The Ferraris dominated the time trials as the Ford team scrambled to make modifications to the cars, experimenting with different engines and gearboxes.
While things did not look good for Le Mans, in Dearborn Roy Lunn and his team had a new version of the GT40 ready for testing. Ford Motor Company had been working to develop and perfect a 7-liter 427 cubic inch engine. Lunn and his team had worked an engineering marvel to fit the larger engine in the mid-engine car while retaining aerodynamic integrity. Ken Miles and Phil Remington flew from Le Mans to Dearborn to test the car at the Romeo test track. Just before lunch, Miles took over the development driving and work continued on the car as spoilers were added and modified, and speeds increased until Miles hit 210 mph on the straight away. When Lunn asked for opinions, Miles said, "That is the car I want to drive at Le Mans this year."
With only four weeks until the race, the team decided prepare two of the cars with the 427 engine (called the GT40X) and to supplement the team with the existing GTs with the existing 289 engines that were already racing in Europe. During the practice laps, the 427 set the lap record at 3:33, almost five seconds faster than the Ferraris! Ken Miles received his wish as he and Bruce McLaren teamed up to drive one of the GT40X cars. While the Ford had set the lap record, the race was an unmitigated disaster. In the rush to prepare the newer GT40Xs, small mistakes were made in the gearbox (Roy Lunn later said he cost the team the race in rebuilding them just before they were shipped to France.) The team did not know that the new 289 engines were unstable, as the engineering team had been devoting its attention to the Indianapolis 500 engines, sending untested engines to Le Mans. That evening, Leo Beebe called all the teams together and while they expected the worst, Beebe told them it was a "victory meeting! Next year we're going to come back here and win, and we might as well start now."