Aero First: Rolling Wind Tunnel
200 mph wind tunnel treadmill helped design the most aerodynamic, track capable all-new Ford Mustang
Ford has a new state-of-the-art Rolling Road Wind Tunnel (RRWT) which enables improved aerodynamic research and development for next-generation Ford electric, hybrid and gas vehicles
Rolling Road surface in the wind tunnel is capable of reaching 200 mph along with air speed so aerodynamicists can replicate conditions similar to those experienced on the road or track, aiding research while allowing more opportunity for additional development
The Rolling Road Wind Tunnel was used to help develop the all-new Mustang® Dark Horse™, which has the most downforce of any 5.0-liter Mustang when equipped with the available Handling Package that helps the vehicle stick to the ground both on the street and on the track.
DEARBORN, MI, June 13, 2023 – Wind tunnels have long been used to design and test aerodynamic and energy efficient vehicles. Now, Ford has combined the latest wind tunnel technology with the equivalent of a vehicle-sized treadmill to help create its next-generation of production vehicles, including the all-new Mustang Dark Horse.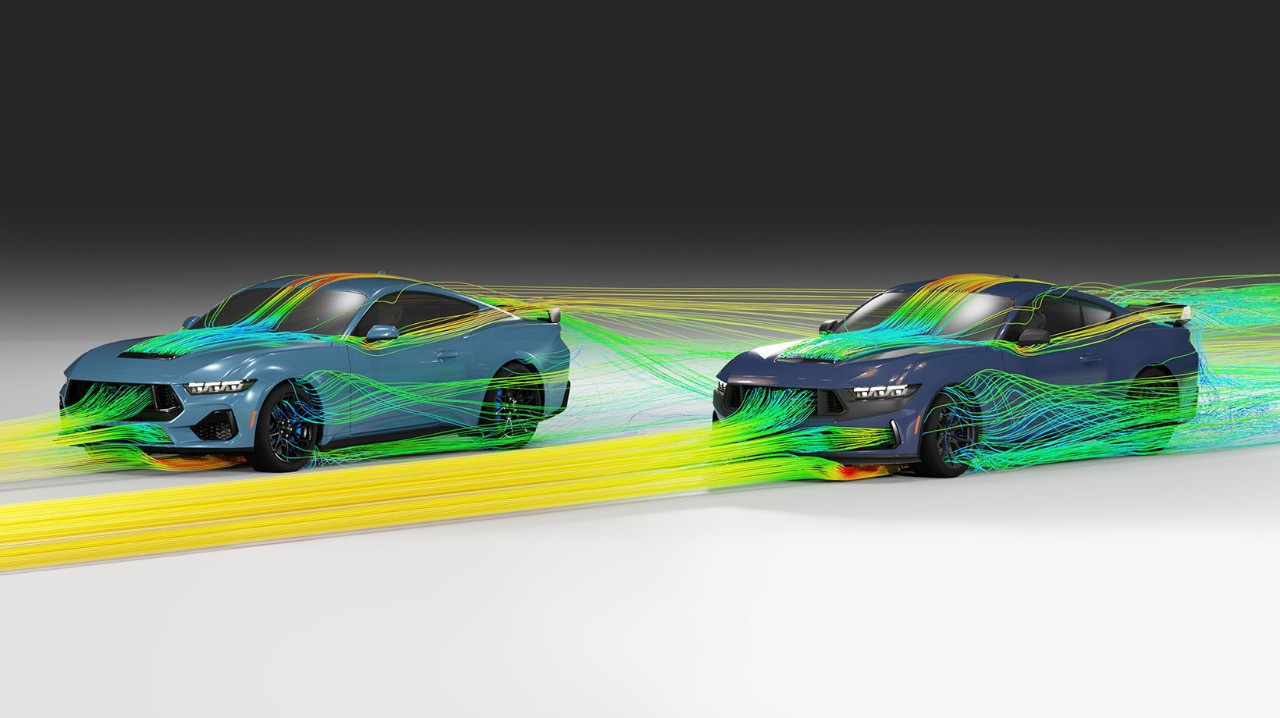 Capable of simulating wind and road surface speeds of 200 mph, the Rolling Road Wind Tunnel (RRWT) supports testing for efficient and performance-driven vehicles across the Ford lineup – including the next generation of Ford electric, hybrid and gas vehicles.
"The amount of air moved by our wind tunnel is enough to fill a K-Class blimp in just over 5 seconds." - John Toth, North America Wind Tunnels Engineering Supervisor.
One key benefit of the RRWT is that it gives more accurate data in terms of both wind drag and downforce compared to other earlier wind tunnel designs, which are key factors when optimizing for range and efficiency. It also allows for more in-house testing that simulates open-road conditions, which can help reduce design costs while also accelerating the design process.
"The closer we can get to reality in the lab, the better and faster we can create more energy efficient vehicles with great on-road and track stability," said Toth. "Testing while the wheels and tires move is instrumental to improving aerodynamics for track-ready vehicles, like Mustang Dark Horse which has to balance both aerodynamic drags and downforce."
A new five-belt rolling road system can replicate real-world drag through a rolling road aerodynamic tunnel that enables Ford to bring the road to the vehicle, rather than the vehicle to the road.
To test for optimal aerodynamic performance, each wheel gets its own belt, making up the first four belts. A large fifth belt runs under the center of the vehicle. A crane is used to switch between the five belt and single belt systems – an industrial-sized plug-and-play. The single belt – which operates at up to 200 mph – opens up a new breed of testing for high-speed performance vehicles.
Maximizing downforce on Mustang Dark Horse
The Mustang Dark Horse is among the first of many vehicles to be tested in this wind tunnel.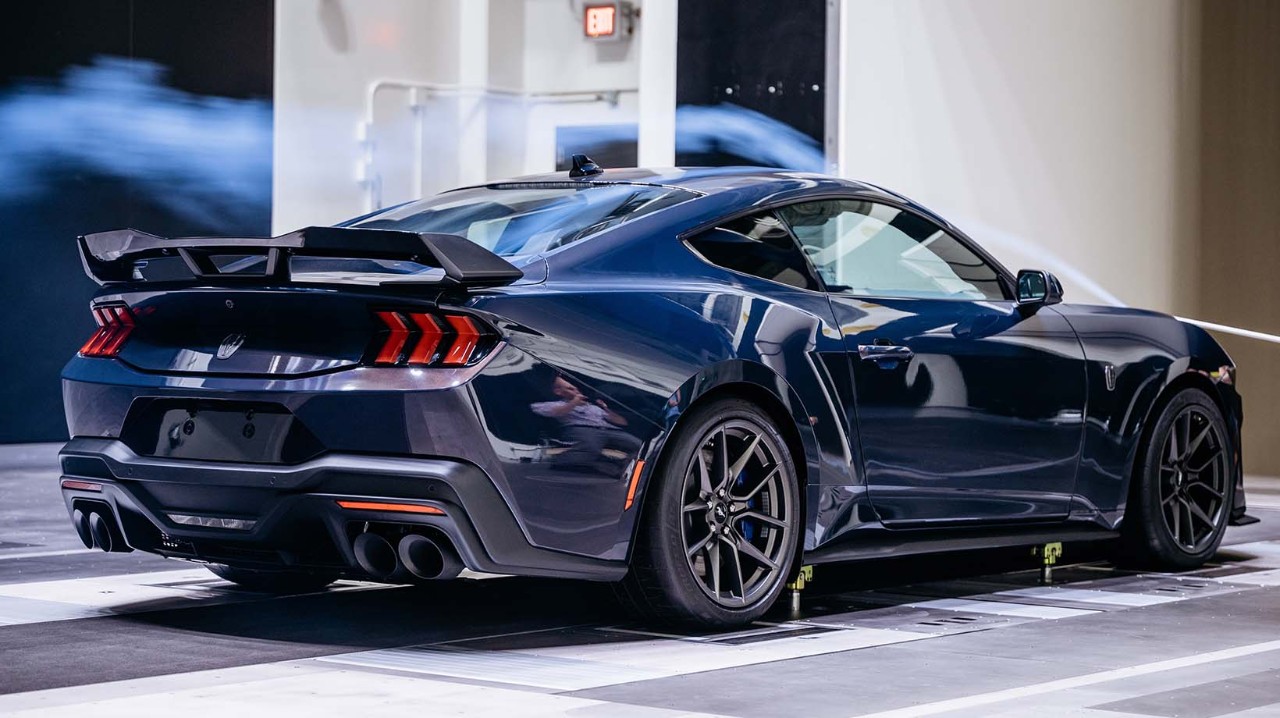 Tailored aerodynamics are a key step in the development of new vehicles.
For passenger vehicles and trucks, the goal is to achieve low drag, creating a more efficient vehicle. However, for vehicles such as the Mustang Dark Horse that prioritize track-ready performance, aerodynamicists will trade low drag for increased downforce, which helps cars stick to the road or track and improves handling feel while cornering.
The Mustang Dark Horse comes with an available Gurney flap, which is an extra plate attached to the rear wing to help generate additional downforce, as well as three vertical plates coming off the under body near each front wheel called strakes. The strakes help disrupt airflow generating greater downforce on the underside of the vehicle, which can help the car stick better in corners at higher speeds.
Overall, Mustang Dark Horse includes multiple changes and additional features, including a redesigned front bumper, a lower valence, a spoiler, and unique wheels. The front design is optimized to potentially increase air flow for engine cooling, brakes and air intake, while also reducing front lift. On the Mustang Dark Horse, the lower air spoiler and splitter is unique allowing the car to be tuned for greater downforce. The upgraded handling package on the Dark Horse provides a unique splitter, spoiler, and wheels – changes that may seem small but that make all the difference when hitting the road or track with performance in mind.
"We spent approximately 250 hours in the wind tunnel developing the 2024 Ford Mustang which includes Dark Horse," said Program Aerodynamicists for Mustang and Bronco, Jonathan Gesek. "The aerodynamics of Mustang Dark Horse along with several other factors have created the most track- and street-capable 5.0-liter Mustang to date."
About Ford Motor Company
Ford Motor Company (NYSE: F) is a global company based in Dearborn, Michigan, committed to helping build a better world, where every person is free to move and pursue their dreams.  The company's Ford+ plan for growth and value creation combines existing strengths, new capabilities and always-on relationships with customers to enrich experiences for customers and deepen their loyalty.  Ford develops and delivers innovative, must-have Ford trucks, sport utility vehicles, commercial vans and cars and Lincoln luxury vehicles, along with connected services.  The company does that through three customer-centered business segments:  Ford Blue, engineering iconic gas-powered and hybrid vehicles; Ford Model e, inventing breakthrough EVs along with embedded software that defines exceptional digital experiences for all customers; and Ford Pro, helping commercial customers transform and expand their businesses with vehicles and services tailored to their needs.  Additionally, Ford is pursuing mobility solutions through Ford Next, and provides financial services through Ford Motor Credit Company.  Ford employs about 174,000 people worldwide.  More information about the company and its products and services is available at corporate.ford.com.wide.