Building in the Automotive Sandbox
Ford's rapid manufacturing processes, better known as 3D printing, are changing the way engineers develop and test cars. Now the process of creating prototype parts is faster, more flexible and more affordable than ever — and the results are on the road.
In the middle of Dearborn, Michigan, Ford's 1,212-acre River Rouge complex accepts entire trains and ships full of ore, glass and rubber. With breathtaking efficiency, thousands of workers operate massive machinery to transform the raw materials into Ford trucks at a rate of one per minute. Four miles away, just outside of town, sets of hyperactive lasers are tracing abstract shapes and turning liquid polymers into solids at a rate of only a few parts per day. But in the process, they're transforming the way Ford turns ideas into vehicles.
In 1986, 3D printing was called stereolithography, and Ford bought SLA 3, the third 3D printer ever made. The machine couldn't produce a single truck, but it could be programed to create an infinite variety of shapes and parts. It didn't take long to see that the invention could be used to create new prototype part designs faster and more efficiently than ever.
Today, a variety of new technologies have joined stereolithography. Inside Ford's 3D printing lab, we're also using fused deposition modeling (FDM), selective laser sintering (SLS) and 3D sand printing. The processes create new parts layer by layer, stacking up cross sections like a deck of playing cards. Scattered throughout the shop are also 3D-printed hand tools that engineers have invented to help them build new parts. With the 3D printing machines running nearly 24-7, the facility has become a kind of virtual sandbox for engineers to design new types of parts never before thought possible.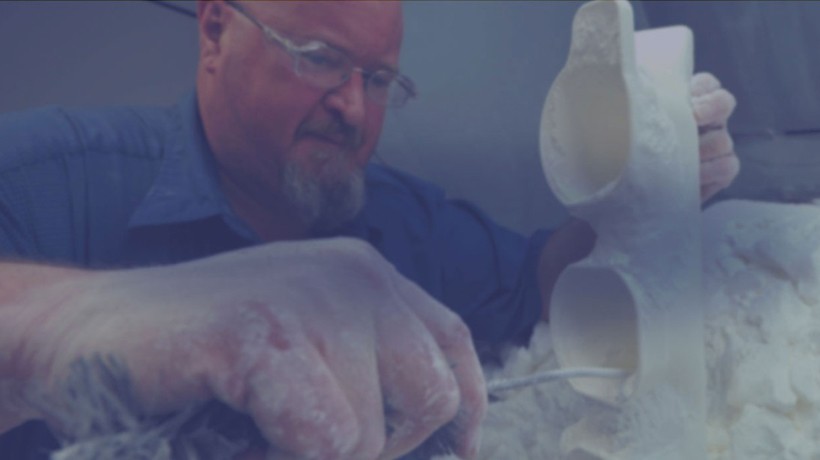 In the last few decades, Ford has printed well over 500,000 parts and saved billions of dollars and millions of hours of work. Where it would have taken 4-5 months and cost $500,000 to produce a prototype with traditional methods, a 3D printed part can be produced in a matter of days or hours at a cost of a few thousand dollars. "You can come up with a really optimized part at the end of the day," says Paul Susalla, section supervisor of Rapid Manufacturing at Ford. "That's all because of the speed with which we can produce the prototype parts without tooling." The prototypes are used on every single part of the vehicle, and they can be driven for hundreds of thousands of miles or crash tested at 70 mph. Either way, the result is the same: higher-quality vehicles at a more affordable price.
But in the future, 3D printing could be used for much more than prototypes. As the technology improves, dealer garages might have 3D printers of their own to create replacement parts, making repairs easier than ever. Consumers could download modifications to create custom car accessories as unique as themselves. And Ford has already put its 3D printers to use for projects outside of the auto industry, creating replicas of dinosaur skeletons, a baby wooly mammoth and miniature race cars.