Ford Driving Skills for Life Kicks Off 2020 with an Expanded Hands-On Safe Driving Tour for Newly Licensed Drivers
Around the world, Ford Driving Skills for Life programming and events are planned in more than 30 countries this year.
In a fast-paced world increasingly filled with technology, Ford Driving Skills for Life continues to provide free hands-on and online training to thousands of newly licensed drivers across the globe.
Now in its 17th year, Ford Driving Skills for Life is expanding its 2020 U.S. tour to offer more than 80 safe-driving training sessions in 18 cities across the country. The tour kicks off Jan. 25-26 at Manheim Auto Auction in Orlando, Florida.
Ford Driving Skills for Life captures teen and parent interest with safe driving clinics that pair newly licensed drivers with professional driving instructors and address critical factors influencing teen crashes: vehicle handling, hazard recognition, speed, space management, distraction and impairment. The clinics focus on skills and information not currently offered in standard driver education courses.
"Despite progress in recent years, teens continue to be overrepresented in motor vehicle crashes and fatalities across the country and vehicle crashes continue to be the leading cause of death for newly licensed drivers," said Jim Graham, global manger, Ford Driving Skills for Life. "We look forward to continuing and expanding our efforts to help reduce the number of crashes and fatalities through real-world training and improved decision-making skills. Working with all of our partner organizations we believe we are making a substantial contribution to safer driving."
As new technology and mobility options continue to emerge, Ford Driving Skills for Life training also highlights the role vehicle technology can play in saving lives, in addition to addressing issues surrounding the relationship between cyclists and drivers, safe use of electric scooters and safety protocol for using ride-sharing services.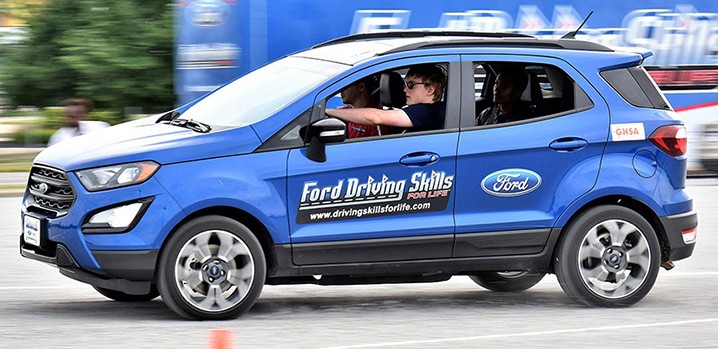 The program will further adapt its curriculum this year to address disparities between beliefs and actions among Generation Z drivers. A 2019 global survey commissioned by Ford Driving Skills for Life found 65% of U.S and 79% of Canadian Gen Z drivers agree that using a mobile device while driving is a serious offense and should result in severe punishment. Yet 62% of U.S. and 58% of Canadian Gen Z drivers still do it. Ford Driving Skills for Life will work to raise awareness of these and other alarming disparities to help minimize risky Gen Z driving behaviors.
Working in the U.S. with its national partner, the Governors Highway Safety Association, the Ford Driving Skills for Life tour will reach Alaska, Arizona, California, Florida, Georgia, Illinois, Iowa, Kentucky, Maine, Massachusetts, Michigan, Missouri, Nebraska, South Dakota, Tennessee, Texas and Virginia this year. In addition to the hands-on driving clinics, a free online "Academy" is available for teens and parents at www.drivingskillsforlife.com/academy.
"Teen and new driver inexperience often result in dangerous behaviors such as speeding, alcohol use and not wearing a seat belt – all of which contribute to increased risk for new drivers," said Jonathan Adkins, executive director, Governors Highway Safety Association. "For this reason, the association and State Highway Safety Offices are looking forward to bringing this powerful program to even more teens and their parents – coast to coast and around the globe."
Around the world, Ford Driving Skills for Life trainings are planned in more than 30 countries throughout North America, South America, Europe, Asia, Africa and the Middle East this year. Since 2008, the international Ford Driving Skills for Life program has grown and provided valuable insights into addressing road safety issues worldwide.
A signature program of Ford Motor Company Fund, Ford Driving Skills for Life has invested more than $60 million to provide free, advanced driver education to more than 1 million new licensed drivers in all 50 U.S. states and 46 countries worldwide since 2003.
2019 Ford Driving Skills for Life: A Glimpse Around the Globe
Ford Driving Skills for Life (DSFL) celebrated 16 years of its award-winning driver safety program with a 16-stop U.S. tour that provided behind-the-wheel drivers training to more than 8,500 teens and their parents.
A module was developed to assist parents with teen driver training and the program expanded for the unique circumstances of driving in rural and emerging markets.
In addition, a global survey of 7,000, Gen Z drivers was conducted to learn the beliefs, behaviors, and attitudes of this latest generation. The results found disparities between a driver's beliefs and their actions.
Ford DSFL events were held in Belgium, Czech Republic, Germany, Italy, Netherlands, Poland, Romania, Russia, Spain, UK, Turkey, Hungary and Norway. To date, Ford DSFL Europe has trained over 38,000 young drivers during 315 events in 16 countries.
This year, Ford DSFL Europe continued its commitment to behind-the-wheel training as well as to the development of different and innovative types of training to reach new audiences. A Share the Road session added training on safe passing distances of cyclists, a WheelSwap virtual reality experience let drivers view the road from the perspective of a cyclist, and a Sleep Suit enabled wearers to experience in a safe environment the debilitating effects that driving while tired can have.
This year marks the 12th year Ford has provided Ford DSFL training in the Philippines. Since 2008 Ford Philippines has successfully trained more than 23,000 Filipino drivers.
Ford Malaysia partnered with local distribution partner Sime Darby Auto ConneXion (SDAC), to promote road safety awareness to local drivers from telecommunications and utility companies.
To increase driver confidence in women, Ford Thailand brought the "Sure Driving Women" training program to Bangkok. Safe driving tips for pregnant mothers were also incorporated into the training, including proper seat belt placement.
Ford DSFL Canada and the Edmonton Police Service partnered to offer behind the wheel training to drivers of any age and experience level.